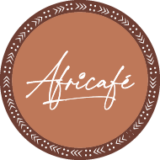 Horaires
Du lundi au vendredi 7h30-19h Samedi : 9h-19h Dimanche 10h-16h
Téléphone
+225 07 88 94 49 11
Réseaux sociaux
Africafé
The Coffee shop with an African twist !
Africafé c'est le corner du Food Hall où l'on peut prendre un café kenyan au petit déjeuner, découvrir un plat de Toubouctou, le widjila, pour le déjeuner et emporter un cheesecake bissap pour le goûter.
Proposant un voyage culinaire au rythme de la journée, Africafé vous fait (re)découvrir l'Afrique pendant vos pauses gourmandes.